Pomponette in the Kitchen
Hi everyone, I thought that, It was time to practice my english to not lose it.
And so, starting from today, january 24, I'm going to create this nex page on my blog to share with you, english spoker, my recipes.
I am an Italian young woman, I can cook and I also love it, so, if you are looking for a real italien dish, made by a real italian person, you are in the right place.
I hope you can find what you want here and if you don't please ask me to make this or that dish for you, and I'll be vary happy to make it.
Have a nice day everyone and now we can start with the recipes.
________________________________________________________________________
TINY MEATBALLS in SOUP
Ingredients:
For the meatballs:
1/2 Lb Ground beef
1/2 Lb Grated Grana Padano cheese
1/4 Lb Bread crumbs
5 tablespoon of milk
2 Eggs (only the yellow part of the egg)
2 Cloves garlic chopped
1 Tbs Fresh parsley finely chopped
Salt
And for the soup:
1 l of wather
2 carrots
2 onions
1 celery
1 cube of soup (like STAR or KNORR)
How to do it:

Prepare the L. of wather, two chopped onions , two chopped carrot and the one chopper celery to a pot whit the vegetable cube. Let cook it.
Bring the water to a boil and let it simmer for 1 hour.
Meantime, prepare the meatballs mixing all the ingridients in the list adn put them in the soup for 15 minutes. And it's all done.
Serve in a bowl and garnish with grated Parmigiano cheese.
MUFFIN of the 6 TABLESPOON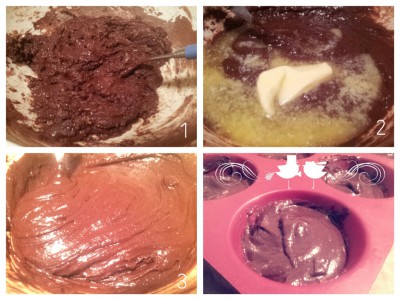 6 tblspoons of superfine flour
6 tblspoons of sugar
6 tblspoons of wather
6 not full tblspoons of salted butter
1 eggs
3 tbls of cacao pouder
1/2 pack of yeast
Preheat the oven.
Whisk the egg with sugar and then combine the cacao pouder in a medium bowl.
Gradually add themelted butter, flour with yeast, wather and blend until well-combined.
Pour batter into prepared pan and smooth top.
Bake for about 15 minutes at 180°C.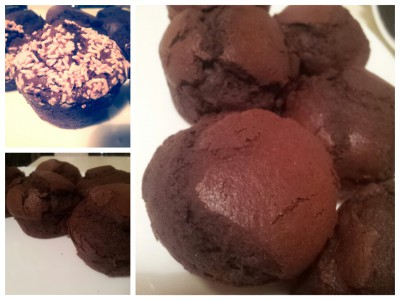 RIGATONI AND CHEESE
INGREDIENTS: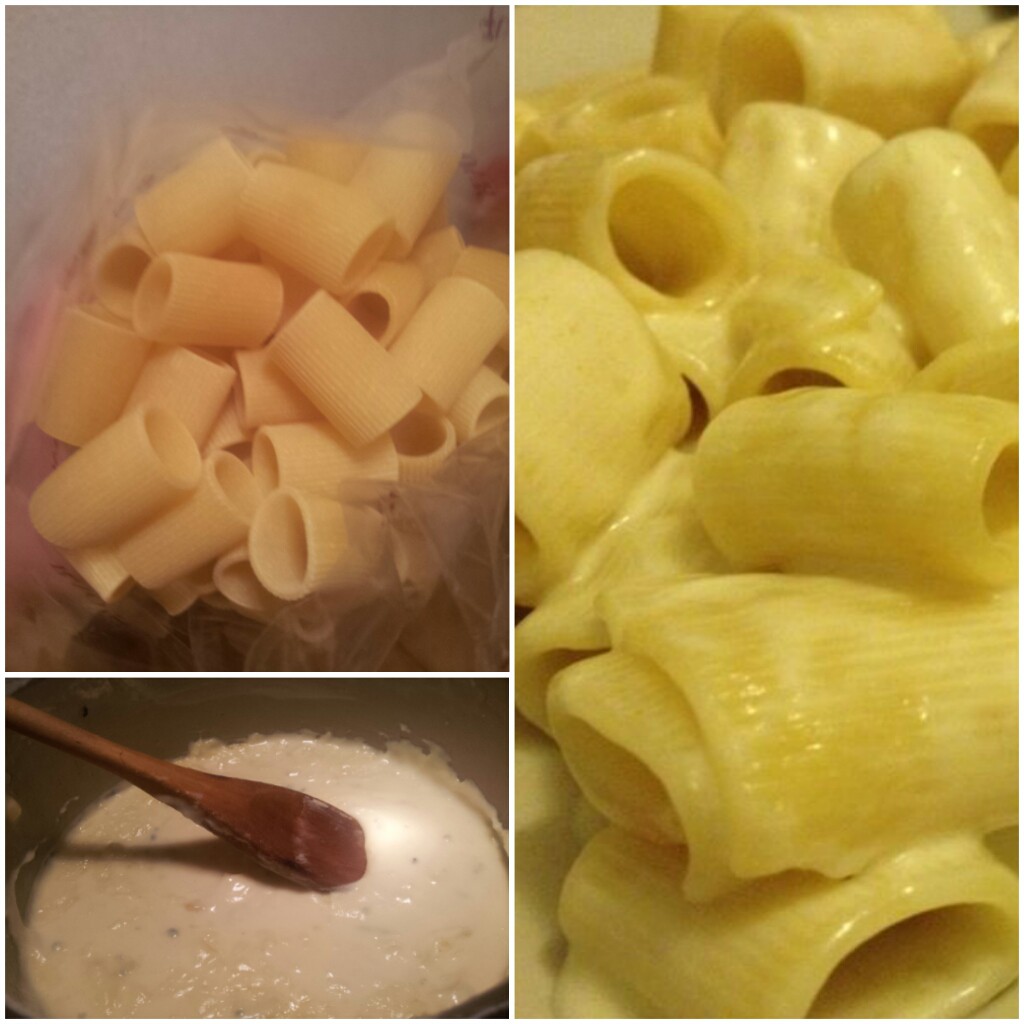 1 bag of Rigatoni Pasta (in USA u can find "RAO'S" pasta, it is cool)
1 cup of Gorgonzola cheese
1 cup of Brie cheese
1/4 cup of freshly grated Pecorino Romano cheese
1/4 cup of freshly grated Parmigiano cheese
1/4 of cream
a slice of butter
Salt and Pepper
HOW TO MAKE IT:
Cook Rigatoni in a large, deep pot of rapidly boiling salted water until al dente (do not forgot a tablespoon of olive oil in the water).
Combine the different sort of cheese in another pot whit the cream and the butter. Cook it slowly to not burn it.
Adjust seasoning with salt and pepper. Remove from the fire, combine pasta and cheese sauce. Serv it hot!
SPAGHETTI HARLEQUIN
180 grams of spaghetti fine (size 3 )
1 sweet red pepper
2 small onions
1 carrot
1 strand of extra virgin olive oil
30 grams of grated parmesan
1 cube of vegetable
water ( for boiling the pasta , of course)
2 teaspoons coarse salt
HOW TO MAKE IT:
Before cooking spaghetti we star preparing the sauce.
Cut the carrot into thin slices with the aid of a potato peeler or a mandolin.
Cut the red sweet pepper into thin strips and cut onions too .
Put a little oil in a frying pan and fry the onion and carrot.
Also place the peppers in the pan and cook for a few minutes.
Then add a cup of water and simmer until the peppers and other ingredients are not cooked , not forgetting to add the vegetable cube.
Drain the vegetables and leave them aside in a saucer.
Cuoceremo pasta like a risotto that lying noodles in the same pot in which we made ​​the sauce and when we left the water used to cook the vegetables.
Add two teaspoons of salt and let the dough toast .
Then add the water after boiling or in another pan or a kettle.
Cook for as long as necessary , but not completely drain the pasta and vegetables riaggiungete .
Do all the mix with the parmesan cheese and then serve hot .
And it is ready.


Good weekend to all of you!
SPAGHETTI CARBONARA
INGREDIENTS:

80 grams of pasta for each person&
1 yellow part of a egg for each person and 1 white part of the egg every two people
2 thick slices of bacon cut into thin slices
Grana Padano cheese
salt and pepper

HOW TO MAKE IT:
Put the finely chopped bacon in a nonstick pan to brown.
Meanwhile, put the water on to boil for the pasta.
Beat the eggs, with parmesan cheese , salt and pepper creating a kind of cream .
This is where things start to get complicated,
there are people who cook the sauce but I do not recommend it , I prefer to put it directly with the bacon and the pasta and with this method the sauce stay creamy and teasty and wonderfull.
So when pasta is ready,  drain it and alloy that with the sauce in a big pot.
Serve hot , of course, and enjoy your lunch!
________________________________________________________________________ 

RISOTTO WITH PUMPKIN


INGREDIENTS:
1 cup of rice for each persone
1 slice of pumpkin
1 onion
2 teaspoons extra virgin olive oil
1 vegetable stock cube
water
HOW TO MAKE IT:
Cut the pumpkin into little cubes

Anyway, take a pan or a large pot and put in one or two teaspoons of olive oil and fry the diced onion and pumpkin.
When the onions begin to brown, add two cups of water and the vedetable stock cube and let it cook.
When this is done , add the rice at the center of the pan pushing the sauce to the edges.
Cover the rice with water and let it cook making sure that the water level is lowered gradually and that the rice does not stick , it would be better for this reason a non-stick pan .
After 10 /12 minutes , when the rice is cooked put in the pan, if you want, some Parmesan cheese.
And here  we are, that is done, ready to eat, easy, not expansive and very tasty.
________________________________________________________________________

LASAGNAS

INGREDIENTS:
For the sauce for 5/6 persons:
500 grams of ground beef
3 celery
1 onion and a half
2 carrots
Tomato sauce
Oil
1 vegetable stock cube and a half
Some rosemary
2 cloves of garlic
Water
1 glass of white wine
For the lasagna:
8 sheets of fresh pasta for lasagna
350 ml bechamel
10 slices of cheese (like emmenatl, gouda, or sometingh like that)
Grana Padano cheese
HOW TO MAKE IT:
To make the sauce:
You will notice that normamente the sauce must simmer for at least three hours , I expected the thing with having a little in advance so I had to cook it about 5 hours, and in general , the longer you simmer the more the result will be good, the ingredients are well blended with each other,
the meat will be more tender and the flavor will be better .
And now let's start with the preparation and  you will see that is not at so complicated.
So let's start by cutting carrots in dices, celery and onion and place in a pan with a spoon or two of olive oil.
Also add the garlic finely chopped and two sprigs of rosemary.
Later add the meat and let it  brown for a few minutes.
Add the white wine , let it evaporate.
Subsequently add 2 or 3 tablespoons of tomato sauce (or more if you want).
Put the vegetable stock cube and cover with water a first time.When it is absorbed and evaporate ristart this operation as often as you need it, compared to how long you have decided to cook your sauce. And this is done!
To make the lasagna:
When the sauce is ready, just begin to overlap the layers …
I start with a layer of pasta , then the rest, meat, sauce, pasta, sauce, slices , meat, pasta , sauce, meat, cheese slices , pasta, meat sauce parmesan …
So I try to put the layers in a diversified manner so that when you cut you will see all the different layers and colors , and also that our lasagna can be less dry .
I end with parmesan and I cook between 20 and 25 minutes in the oven to about 180 °.
________________________________________________________________________

BREASTS OF CHICKEN IN SESAME CRUST WITH HERBS of PROVENCE
INGREDIENTS (for 3 people):
330/350 grams of chicken
3 tablespoons of mustard
3 or 4 tablespoons of sesame seeds
2 tablespoon of herbs of provence
20 grams of butter
1 tablespoon and a half of olive oil
salt and pepper
HOW TO MAKE IT:
I promise, It will be very easy to make this dish.
Spread each chicken breast with mustard …
Then you roll the chicken breasts in a dish where you have put the sesame seeds .
Finally put the tablespoons of herbs from Provence to give a little more flavor on you chicken.
The herbs of provence make me think about summer, barbecues and holidays … so if you feel like you are missin summer days do not worry, it's a side effect easily controllable.
After put the butter and a little bit of olive oil in a frying pan, add the chicken breasts and let them brown on both sides .
When they are colored turn off the heat and cover the pan with a lid to ending the cooking as if they were put in the oven.
And here is that your chicken breasts crusted with sesame and herbs from Provence are ready.
Lascia un tuo commento